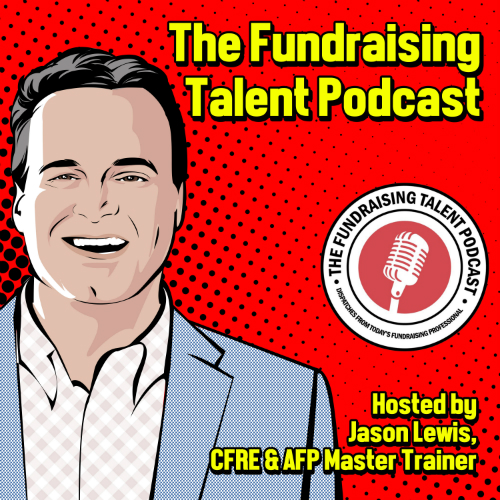 #42 | Who wants to be a fundraiser when they grow up?
Mar 14th, 2019 by Jason Lewis
It is fascinating and exciting to hear Shanna Hocking share her journey to becoming a fundraising professional. Whereas many of us happened upon fundraising after pursuing other career paths, Shanna discovered at eighteen that fundraising was an opportunity for her to ensure lifelong meaningful work.
Shanna's ambition to be a great fundraiser was so strong that after her freshman year in college, she persuaded an AVP at Duke University, where I might add she was not enrolled, to give her an internship in the advancement department. This formative experience in college has evolved into a twenty-year mentorship that has shaped her understanding of fundraising and leadership development.
I have often said that many of our challenges in fundraising are in the supervisory role and not so much about those who are doing the fundraising. Shanna understands this. Her opportunity now is to lead and develop a great team. Whereas she was once determined to be a great fundraiser, she now wants to ensure that she is a great boss for those who are counting on her. I suspect that if we were to ask any one of her twenty-four direct reports, they would insist that she is extraordinary at both.
Upcoming Roadshow Dates
The next stop on the #HowFundraisingReallyWorks roadshow is #Philadelphia. On Friday, April 5th, we will be at the YMCA of Greater Philadelphia. Very grateful to Chris Tomlin and his team for partnering with us!
This is not your typical "Tips and Tricks" seminar - we're going to confront the real reasons for why most fundraising strategies are designed to fail, challenge assumptions about how fundraising really works, and ensure that fundraising professionals know how to be recognized and admired for meaningful work. Anyone who isn't thinking more critically about fundraising when they leave wasn't paying attention. 
Registration always includes breakfast, lunch, a copy of The War for Fundraising Talent, planning model cards, and six CFRE credits for your initial or recertification application. 
You can register at lewisfundraising.com/events
Confirmed Upcoming Roadshow Dates 
Philadelphia, 4/5, Hosted by Greater YMCA of Philadelphia
Raleigh, 4/26, Hosted by Saint Augustine's University 
Worcester, 5/2, Hosted by Woman In Development 
New York City, 10/10, Hosted by The Gateway School
Share
|
Download(

Loading

)